Columbus Museum of Art
November 19, 2020 – October 2021
In 2015, Aminah Brenda Lynn Robinson bequeathed almost her entire estate to CMA. For several years, CMA documented that gift and the vast amount of art, journals, and other ephemera that remained in her house. Raggin' On: The Art of Aminah Brenda Lynn Robinson's House and Journals is the first major exhibition of the artist's work since her death and a celebration of Robinson's work, vision and the home, and neighborhood she cherished.
Raggin' On presents seven decades of Aminah Robinson's art and writing. The exhibition invites visitors to experience the artist's home and creative processes and to better understand her intention "to celebrate the everyday lives and culture of Black people and their endurance through centuries of injustice." In addition to Robinson's art, this exhibition includes furnishings she made for her house; books from her impressive library; collections of buttons, fabrics, canes, dolls, and thimbles; art she traded with other artists; and photo enlargements of her living spaces and studios. Complementing the visceral experience reflective of the artist's home, visitors will explore their own stories and peruse Robinson's journals.
The exhibition is accompanied by a catalogue with more than 200 illustrations and with essays by Curators Carole Genshaft and Deidre Hamlar and additional scholars including Lisa Gail Collins, Ramona Austin, Lisa Farrington, Debra Priestly, and William McDaniel.
This exhibition is supported in part by a major Art Works grant from the National Endowment for the Arts.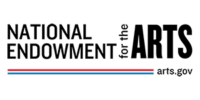 Image: Aminah Brenda Lynn Robinson, Incantations (from Themba: A Life of Grace and Hope series) (detail), 1996-2012. Columbus Museum of Art, Ohio: Estate of the artist.