Tours
School Tours & Field Trips
A wide array of tours is available for preK-12 student audiences.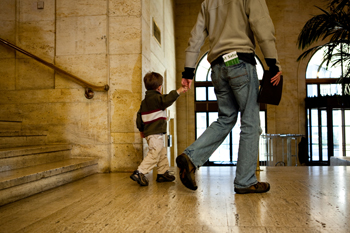 A variety of guided tour experiences are available. Please see our current list of available tours.
Tours are scheduled Tuesday through Sunday beginning at 10 am and last 50 minutes.
There is a minimum of 10 students and a maximum of 60 students per 50-minute tour.
Parking is free in the Museum lot for cars and vans, and additional metered parking is available nearby. Bus parking is also available for free.
Group Tours
Guided adult group tours of our permanent collections and special exhibitions can be arranged for groups of ten adults or more. We also provide tours for people with disabilities. Tours are scheduled Tuesday through Sunday beginning at 10:00 am and are 50 minutes in length. The cost is $4 per person plus the price of admission. Arrangements must be made six weeks in advance. Please call 614-629-0359 to book your tour or for more information.
Walk-In Tours
Walk-in tours are public tours offered free with admission on Thursdays at 6:30 pm, Fridays at noon, Saturdays at noon, and Sundays at 1 pm. Tours leave from the Museum Drive Lobby. Check the calendar for daily topics.
Guide By Cell Tours
Use your cell phone to learn more about works of art, artists, and more. With this interactive, user-friendly tool, visitors enhance their museum experiences by using their cell phone to learn more about the works they are seeing and the artists who created them. With Guide by Cell, museum visitors dial a phone number and then select the code that appears next to the artwork to learn more about the piece. Visitors may stay on the same call throughout their visit and the only charges incurred are their cell phone minutes and any roaming charges.
Sparking Imaginations Tours
A wonderful new partnership with the Alzheimer's Association of Central Ohio; AWARE, the Alzheimer's Women's Association to Reach and Engage; and CMA is opening up to new audiences. Sparking Imaginations is a new program for people diagnosed with early-stage Alzheimer's disease or dementia and their caregivers. The program gives those living with the degenerative disease an expressive outlet and a forum for dialogue. During the course of an hour, specially trained Museum docents facilitate lively discussions that focus on a handful of works of art in the galleries. This time allows persons diagnosed with dementia and their caregivers to take a break from the stresses of their lives as they imagine together and share memories and stories. Please call 614.629.5947 to learn more about the program or download the Sparking Imaginations Brochure.


Sparking Imaginations is made possible thanks to the generosity of Abbott.
Experiential Tours
For a unique, immersive experience, try an experiential tour for adults. Become an Artist for a Day or explore the world on one of our Art Escapes tours.
Franklin County Courthouse Self-Guided Tours
See ten striking, contemporary works of art on display in public spaces at the Franklin County Courthouse and Dorian Commons. Download and print our Franklin County Courthouse Self-Guided Tour sheet for details and Guide-By-Cell information.
For more information or to schedule a tour call 614.629.0359.