Join CMA Executive Director Nannette Maciejunes for Art Book Club. Every Art Book Club includes a conversation with Nannette. Art Book Club selections are available for purchase in the Museum Store.
For questions, please call 614.629.0359.
Art Book Club is $5 for nonmembers and free for members, the virtual zoom session is free for everyone.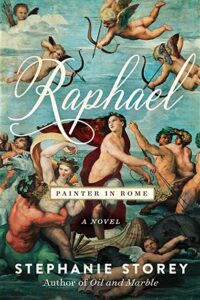 Special Edition Art Book Club
Stephanie Storey, Raphael, Painter in Rome
October 20, 7:00–8:00 PM, In-person at CMA & Online
Join historical novelist and national television producer Stephanie Storey for a live, in-person discussion of her book Raphael, Painter in Rome: A Novel. In conjunction with the Dresden tapestry exhibition Raphael—The Power of Renaissance Images, Storey will highlight the stories behind Raphael's famed cartoons (large paintings) from which the famous tapestries were woven, and will discuss the life and personality of the legendary artist.