BAM Thursdays
Thursdays starting April 1, 5:00 – 9:00 PM
Columbus Museum of Art

The Museum is thrilled to announce the return of a tradition many will fondly remember as First Thursdays, reimagined in 2021 as BAM Thursdays (Bar, Art, and Music). Every Thursday will bring fresh libations, great art, and music at the Museum. The festivities will be enhanced with a featured live artist from 6:00 – 8:00 PM. Sip and vibe with friends in our garden space, with limited seating also available inside Schokko Café.
You do not need a reservation or ticket to attend BAM Thursdays, however if you would like to visit the Museum, we ask you reserve a timed ticket in advance here.
Tables are available on a first come first serve basis for dining until 9:00 PM. See you there!
With the City of Columbus and Franklin County's indoor mask advisory and the daily changes to the landscape of COVID spurred by the Delta variant, BAM Thursdays will continue in the outdoor garden, weather permitting. In the case of rain, programming (Bar, Art, Music) will be reduced, and normal café service will be available inside Schokko Café.
Check this page after 12:00 p.m. on Thursdays to confirm the status of BAM Thursdays for that evening. Updates will also be shared on the Museum's Instagram.
September
September 2: Artist Sarah Hout and DJ Nordiq
September 9: Ohio Plein Air painters and DJ Rarelife
September 16: Artist Khaila Carr and DJ Krate Digga
September 23: NO BAM Thursday due to Art Celebration
September 30: Artist Bryan Moss and DJ Nordiq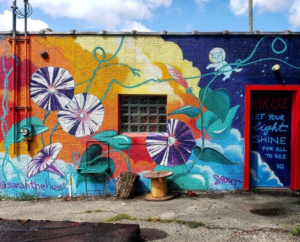 Sarah Hout is slinging vibrant shades of happy every chance she gets, Sarah Hout is a Columbus-based muralist bent on upgrading every nook and cranny of her city with large scale artwork. Check out her Instagram.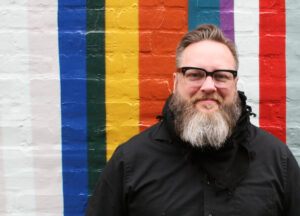 Ty Williams (aka DJ Nordiq) is a musician, producer, writer, poet and radio host based in Columbus, Ohio. As a DJ, he specializes in energetic international music and all things off the beaten path. You can catch Ty's radio show, North by Nordiq: The International Hip-Hop Show, on Radio614, Saturdays at 5PM. Check out his Instagram.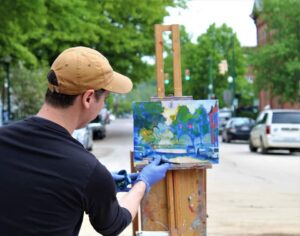 The Ohio Plein Air Society is a collection of artists and art lovers sharing a common interest in outdoor painting. Check out their website.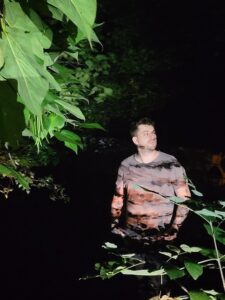 DJ Rarelife is head of new Columbus based label Shut Off Notice and Co-Founder of the famous Bird Tunnel Party. Check out his Instagram.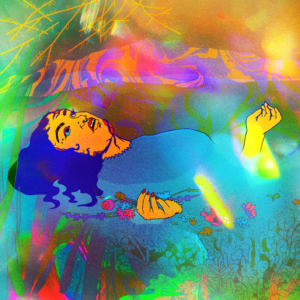 "Khaila Carr is a Columbus-based artist whose work is influenced by color, dreams, dogs, comix, love, sex, fantasy, psychedelia, animation, and her Filipino-American heritage. She graduated with a BFA in Illustration and Fine Arts from the Columbus College of Art and Design in Columbus, Ohio. When Khaila's not drawing, she's either hanging out with her corgi or enjoying an iced matcha latte. Probably both!"
Check out her Instagram!
Krate Digga is committed to improving quality of lives using music as a vehicle specifically through the prism of Hip Hop culture. Whether teaching middle school or at the collegiate level, opening for Grandmaster Flash or presenting his own stage production; it is music and the power therein that's allowed Krate to serve as a conduit for artistic & community development. Check out his Instagram.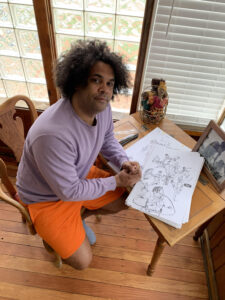 Bryan Moss is a comic artist, painter, and educator. Moss is also an art instructor at Columbus College of Art & Design and the Columbus Museum of Art. He is currently working on his own comic book as well as freelance projects including large-scale murals, immersive experiences, designing treasure maps, and more. Check out his Instagram.
Check out past artists at BAM Thursdays here!

Sponsor BAM Thursdays
Sponsorships are still available, if you are interested please fill out the form below. If you have any questions about sponsorships for BAM Thursdays contact Maureen Carroll at Maureen.Carroll@cmaohio.org or Gabriel Mastin at Gabriel.Mastin@cmaohio.org
Sponsorship Application

BAM Thursday is proud to have support from the following sponsors:

April & May




June




July