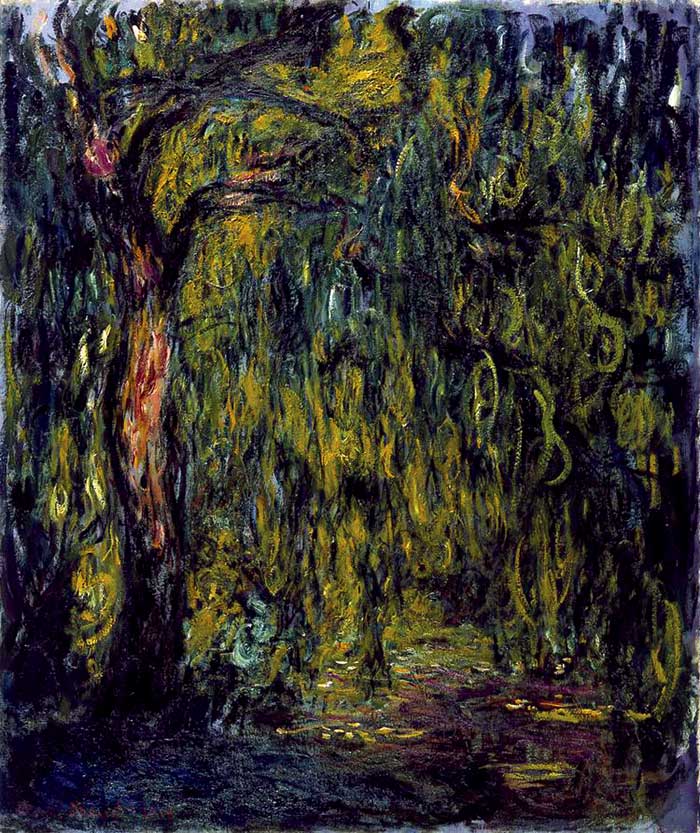 How does one go about turning a Monet into music? Behind the scenes of Gallery of Echoes with Shadowbox's Gabriel Guyer.
My name is Gabriel Guyer. I am 35 years old and the Bassist and Co-Composer for the Gallery of Echoes project, a multi-media, multi-disciplinary collaboration between Columbus Museum of Art and Shadowbox Live. I have been a Musician and Visual Artist my entire life. Gallery of Echoes in many ways is this fascinating culmination of my life's experiences. Though I know this isn't nearly the climax of my existence or my life as an artist, bringing these 2 art forms together in such a unique way is an event I have somehow always been moving towards.
I grew up in a house filled with Classic Rock from the 60s, 70s and 80s like The Doors, Steely Dan, Rush, Jimi, Zeppelin, etc. As I got older my tastes expanded into other genres of music like Soul, R & B and went deep into Rap and Hip Hop for a very long time while dabbling in Classical, Jazz, Lounge and World music along the way.
As a musician I began my life as a Vocalist. I picked up my first stringed instrument, the Violin, in the 4th grade. Soon after I switched to Trombone and stayed with it for several years. However as I reached High School I picked up the Guitar. Being a teenage male with a guitar taught me a lot about songwriting and how to express myself emotionally through my instrument (laugh). Several years later while working in the early days of Shadowbox Live, we lost our bass player. Out of necessity – though perhaps destiny – I picked it up and haven't put it down since. It speaks for me and from my heart better than any other musical instrument I've ever touched.
As an artist, I grew up in a house that was filled with my mother's Watercolors and Acrylics. She had a gift for sharing her imagination and feelings through abstract work – using mainly art nouveau and still life. Very expressive and very feminine works. I use pen and pencils in my Visual Art, but I have explored many various mediums throughout my life. I've never been a painter; in fact I'm terrible at it, so consequently it's one of the mediums that fascinates me the most.
Perhaps needless to say, Art and Music have been two of the most import factors in my life.
French Impressionism has influenced me since I was young and Claude Monet has inspired and enlightened me through all of that time. For me, Monet's work has always felt light and inviting. … the way that he could turn an everyday something or somewhere into a place that you wanted to be. He takes you into that world. As you stand at a distance looking at the whole picture, all you want is to be closer. You want to see more detail. But as you draw near, instead of revealing these details you see brushstrokes and texture. This almost blurred vision seems to help the piece to surround and envelop you.
I have seen many of Monet's works and have been blessed to see several in person. I certainly do not know his entire catalogue of work. However from my experience, Weeping Willow is a very unique piece that the Columbus Museum of Art is lucky to have.
I had never seen a Monet like this before. It was very dark. As I walked up to this piece, explored its colors, and compared it to what I know of Monet – all I could think about was the intense and deep emotion he was expressing. Though I believe Monet is actually inviting us, the viewers, to this safe place where we may comfortably share the darker parts of ourselves.
As I came into writing the music for this piece, I really wanted to speak to each of these elements. The main time signature for the song accompanying this piece is an alternating 7/8 to 8/8 that feels good but is slightly off kilter. That directly speaks to my comparison this piece to his other works.
I also felt a somber, minor tone coming from the painting, which had something of an unexpected flow to it. It seemed like the perfect opportunity to use my chorus pedal and give it that fat, wavy tone to match the natural behavior of the piece.
The main guitar line was a perfect compliment to my languid bass line with each quick 16th note creating tiny, individual leaves on the limbs that tumbled down.
The keys fleshed out our environment with one laying the foundation of rolling hills that we don't see in the actual artwork but are merely implied. All while the other keyboard creates a gentle breeze that moves the limbs slightly and invites you to come inside for your self-expression.
As we move into the heavier section of the song, it represents the emotion trapped within the weep of the willow. We have stepped under the canopy and are taking our moment to scream and release all of our anger and pain.
Now that we've let it out, we can begin to rebuild our confidence and courage – coming back out from beneath its branches. This leads us into my quiet solo section.  Here I tried to communicate the feeling of regrouping and just beginning to take new chances emerging and looking at the world with new eyes. You feel good. You feel lighter.
As the song flows into its outro, I see it as looking back to where our experience began and feeling the call of the willow as we did when we first stumbled across its path.
Perhaps not every song in Gallery of Echoes has given me the illumination that I feel with Weeping Willow, but every song most certainly has its own, unique experience. I truly believe that we, Light's performers and composers, have found a new and provocative way to express these wonderful works of art. I hope you will come share our interpretation. And perhaps you will have your own interpretations that wildly differ from ours, but that is exactly what this performance is meant to celebrate. The most beautiful thing about art is that it can be seen and felt in so many different ways.
I was able to smuggle out a rough copy of the recording to share with you. Please know this isn't a finished product, but it will definitely help you understand the vision we have.
Weeping Willow by Light
Art inspired by art inspired by art.
Gallery of Echoes has only 7 performances at Shadowbox Live from May 1st – 4th
To get your tickets or more information on Gallery of Echoes, please visit the Shadowbox Live website. For more about Gabriel Guyer, visit the author's website.
Art Speaks. Join the Conversation.
Guest Blogger, Gabriel Guyer, Bassist and Co-Composer for Gallery of Echoes
Comments
comments