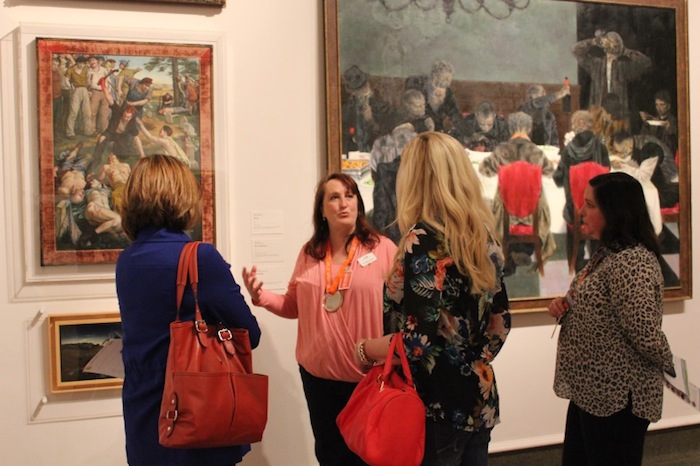 Do you value learning? Do you have a passion for art? Do you enjoy conversing and sharing with others? If you answered "YES," the Columbus Museum of Art is recruiting for a new docent class for the 2014-2015 year. Docents are volunteer gallery facilitators who guide visitors in thinking, talking, and wondering about art. Docents ensure great experiences for CMA visitors including 15,000 + K-12 students from all over Columbus.
The process in becoming a docent includes a rigorous nine-month training process where candidates research and study art in the Museum's collection, learn touring strategies to match various age groups, and explore educational philosophies. No previous art knowledge is necessary, but curiosity and commitment is required.
Docent candidates must commit to two years of touring and continuing education after their completion in training. Graduates will join one of the most dedicated and passionate group of volunteers in central Ohio. They must maintain a Museum Membership. Benefits of becoming a docent include curatorial and guest lectures, interactions with contemporary artists, social events and art-focused trips, access to unique museum resources, discounts at the Museum store and cafe, plus more.
DOCENT OPEN HOUSES
Tuesday, July 22nd, 11:00 AM-12:30 PM
Thursday, July 31st, 6:00 PM-7:30 PM
Current docents and museum staff will be on hand to talk more about the program, answer questions, and tour you through the galleries during the open docent Open Houses.
For more information and to apply, download the 2014-2015 CMA Docent Information Sheet, then complete a Docent Program Application.
Applications are DUE on August 8, 2014. Interviews will begin in mid-August. Those accepted into the program will be notified by September 10, 2014.
Please contact Stephanie Samera, Docent Programs Coordinator, at stephanie.samera@cmaohio.org with additional questions about the program.
Comments
comments