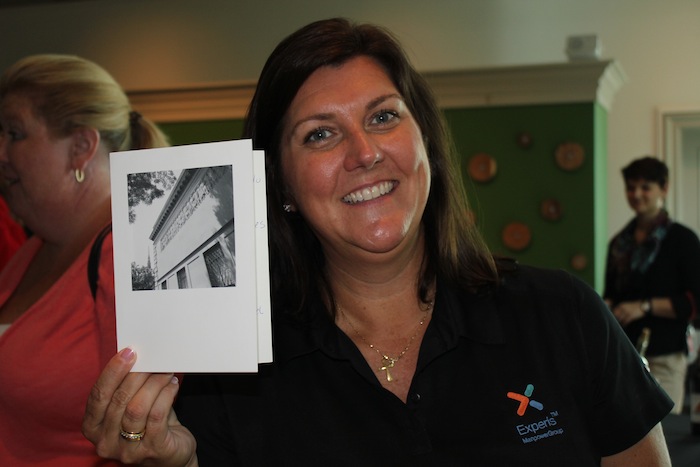 Looking for a reason to visit CMA on work time? Take a cue from Sue Ellen Deiley, Managing Director of Experis Manpower Group, and bring your colleagues to the museum for some creative team-building.
Last week Sue Ellen customized an afternoon of fun for her staff by taking advantage of the many hands-on activities imbedded in our galleries. I first met Sue Ellen the day before the event; she was snapping photos and taking notes. When I learned what she was plotting, I pried her for details. Sue Ellen explained her goals for this somewhat impromptu project – to foster group collaboration within her staff. She also wanted to nudge her colleagues out of their "comfort zone." The art museum is not a usual haunt for her techie group.
I was inspired by this manager's resourcefulness and ingenuity.
The next day Sue Ellen equipped her 3 teams with a puzzle and clues to the "secret team-building location," CMA. Once the teams arrived here, they pulled out a list of specific tasks to achieve; complete her scavenger hunt, take photos, build a cardboard tree, and design a sneaker. Sue Ellen devised the list of tasks based on her discoveries the day before.
After a few hours of frenzied exploration, experimentation, and problem-solving, the group came together to celebrate over food and drink. They were a lively bunch. When I caught up with them for refreshments, they all agreed that a fun time was had by all. They also concurred that Mackenzie, the one art lover in the group, had no advantage over the rest. They all started the challenge on an equal playing field.
Sue Ellen's creative team building was a success. As she planned, small groups of coworkers navigated new and novel experiences together. But, she noticed that something else happened, something unexpected, but equally worthwhile. To succeed, each team had to pay great attention to detail, a skill that comes in handy on the job.
At CMA, we are thrilled that Sue Ellen used our spaces to accomplish her goals. We champion her creative use of our spaces and we extend a hearty welcome and challenge to other organizations to do the same.
If you want to host your own team building at the Columbus Museum of Art, call Events at 614-629-0378.
Comments
comments