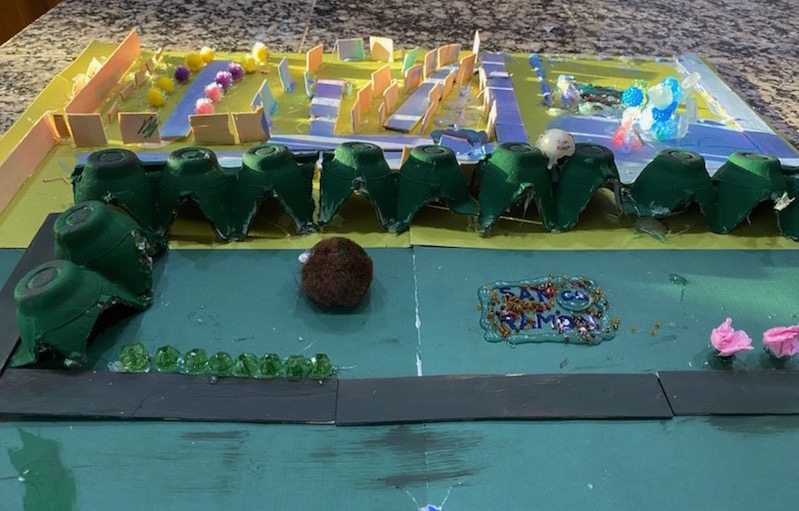 Each month we will explore a new theme and invite you to create along from home with four weekly challenges based off of the BIG IDEA. You don't need an Open Studio, rather use recycled materials, your phone's camera or pencil and paper. This month we're exploring Maps and Data.
Give yourself ten minutes to brainstorm each week's prompt through word association, sketching or drawing the weekly challenge. Then bring your ideas to life as a three-dimensional object. Challenge yourself to use recycled materials and supplies that you can find around your house: discarded and clean food containers, bottle caps, egg cartons, foil, wine corks, cardboard, buttons, tape, scissors, maybe a hot glue gun
Show and tell time after each! Share your drawing with friends and describe your scene. How did you use uncommon materials to express your vision? What challenges did these unconventional materials create? What ways did you problem solve or use these materials in a new way?
For this week's challenge, take a walk around your neighborhood. What do you see when you first step out the door? What do you see to your left? To your right? What's at the end of your street? What type of nature surrounds you? Are there a lot of buildings or open space directly behind you? Are there any places that aren't real that you can add to your map? A unicorn zoo or magic forest? Can you create a 3-d version of your neighborhood?
Follow along as we share your creations on our social media by tagging us at #myCMAstudio on social media.
Be well, and look for more creative challenges while we bring you #myCMAatHome.
–Megan Green brings more than a decade of creative entrepreneurship into her role at CMA as the Manager of Studio of Initiatives. She's shared her passion for supporting artists through her direction at Craftin' Outlaws and Midwest Craft Con.

Open Studio is a drop- in program hosted on Saturdays and part of CMA's JPMorgan Chase Center for Creativity Studio to explore ideas, solve creative challenges, and collaborate with friends and family. We look forward to inviting you back to Open Studio and other CMA experiences when we reopen to the public.