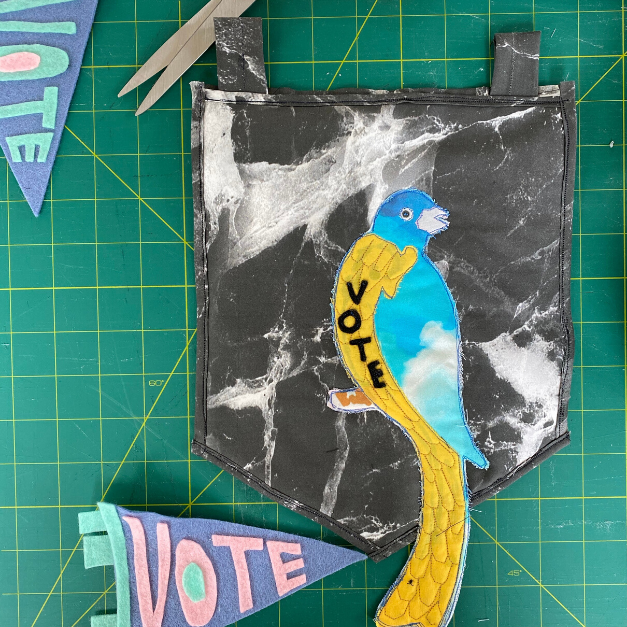 With the importance of 2020 as a presidential election year, and in the face of new changes and challenges this year has brought to the world, it is important to find ways to craft your voice no matter how old you are.
This weeks #myCMAStudio challenge we will stitch together the history of voting with tips to help the creation of pennants and/or banners. Sometimes you have to unravel the stories from the past to make something beautiful today.
What We Are Making: To celebrate the 100th anniversary of the 19th amendment, we are going to learn how pennants/ banners can help us express ourselves. Let's make banners and/or pennants that make us feel ready to take on the day! You'll learn the importance of contrasting colors, tips to help make cutting out letters easier, and ways to think through what story your heart wants to tell that day. There will also be an introduction to the basics of sewing and layout design. Your banner can be something that makes you smile (self love is a radical act!), champions a cause that matters to you, or something else entirely. It is entirely up to you to decide what direction this craft goes.
A Bit of History: Sewing has been a way for people to tell stories, to raise awareness for things that matter to them, and to express themselves for hundreds of years! Banners and pennants became a popular form of expression in the late 1800s. They were used for political campaigns of all sorts, but most notably as a part of the suffrage movement. It is hard to believe there was a time when women could not vote. In 1920, women gained the right to vote with the passage of the 19th amendment. In America, it has barely been 50-years since all people had the right to vote. Voting rights advocates from the 1800s through the 1900s creatively fused artistic expression with the marketing of causes they believe in. For example, suffragists used specific colors to tell stories and to create strong visuals.
Purple – Purple has been a color to signify royalty (click here for that bit of textile history), and suffragists used it to imply they were worthy of having a political opinion.
Green-Spring is tied to hope and rebirth; the suffragists' use of green stood for their ability to be hopeful even during a difficult fight for equality and potential for political systems to be reborn.
White- The absence of color stands for purity both in private and public life.
Yellow/Gold- Kansas sunflowers inspired suffragists Elizabeth Cady Stanton and Susan B. Anthony to incorporate yellow and gold into the women's movement. The use of yellow would go on to inspire "The Yellow Ribbon," a song that was performed in 1876 during U.S. Centennial celebrations (lyrics for this song and other suffrage tunes can be found here). Yellow would continue to have significance in the movement. Tennessee suffragists wore yellow roses, and people opposed to women's right to vote wore red roses. Suffragists were triumphant in their battle of the roses, and Tennessee became the final vote needed to ratify the 19th amendment.
Supplies:
Fabric (2-3 colors recommended, felt is suggested by not necessary – feel free to use scraps)
Needle
Thread
Scissors
Glue
Scratch paper if you want to sketch out ideas or make your own stencils
Don't feel like sewing? You can use a fabric glue or create with paper!
To Learn More:
Free to Use images from the Library of Congress.
For voting equality timelines and interesting images visit the National Women's History Museum website.
Fast facts on suffrage for youth or adults + discussion prompts for family.
The National Parks Service has free activities, coloring pages, and information for younger children.
Free coloring pages on Better Days 2020.
Visit a historic site that is tied to women's history. National Votes for Women Trail has a wonderful assortment of sites across the country on this interactive map.
Find a CMA Studio Challenge that speaks to you and thanks to everyone who has participated. Share your creations on social media by tagging #myCMAstudio.
With 10+ years of experience working in the cultural resources field, Sarah Marsom has developed a keen understanding of storytelling and connecting people to the past. She's crafted hands-on workshops, tours, successfully pursued historic designations, and executed speciality research projects.
#myCMAstudio is a digital version of our drop-in program, Open Studio. Which is currently unavailable to the public due to Covid-19, and part of CMA's JPMorgan Chase Center for Creativity Studio to explore ideas, solve creative challenges, and collaborate with friends and family. Pick up a Studio in a Box with all the supplies and materials needed to aid you in our weekly challenges or allow our CMA educators to guide kids Pre-K – 8th grade in an online Weekly Studio Meet-up.