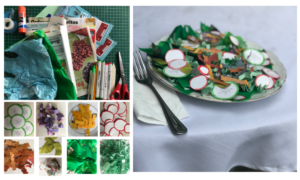 Create your own delicious looking salad out of junk mail!
As a person with an unusual diet, I am ALWAYS thinking about food! AND everyday we receive marketing materials that are mailed to us – an endless supply of different colors and textures of papers.
Envision your favorite items at the salad bar. What beautiful produce is coming in from the garden this month? Scour sale ads and random envelopes for colors that match and those that appeal to you. Curl, tear and cut creating a variety of textures and "flavors" for your salad. Use a pencil to curl strips of paper around, use a paint brush and water to "paint" a tear line onto paper to make it rip easily and where you want. Use scissors and paper edgers to create distinctive shapes for your salad. Accordion fold and then cut paper to simulate shredded veggies. Anything goes! Plate your creation on Grandmas' China or on a paper plate!
Find a CMA Studio Challenge that speaks to you and thanks to everyone who has participated. Share your creations on social media by tagging #myCMAstudio.
#myCMAstudio challenge brought to you by:
Brooke Hunter-Lombardi
Brooke is an urban gardener, lover of backyard chickens and indoor bunnies. Brooke's current body of work incorporates her love of science, history and storytelling through watercolor, mixed media, printmaking, book arts, assemblage and ceramic sculpture. Teaching since 1994, she seeks to facilitate maximum learning: more books, more artists, more exploration, more inspiration, more techniques and more ideas!
Brooke currently teaches Visual Art to talented and kind high school students at Arts and College Preparatory Academy https://artcollegeprep.org/ in Columbus where her son is a recent graduate.
Website: www.brookehunter-lombardi.com
#myCMAstudio is a digital version of our drop- in program, Open Studio. Which is currently unavailable to the public due to Covid-19, and part of CMA's JPMorgan Chase Center for Creativity Studio to explore ideas, solve creative challenges, and collaborate with friends and family. Pick up a Studio in a Box with all the supplies and materials needed to aid you in our weekly challenges or allow our CMA educators to guide kids Pre-K – 8th grade in an online Weekly Studio Meet-up.
Comments
comments