In this new series we feature masterworks and other art from Columbus Museum of Art's Collection.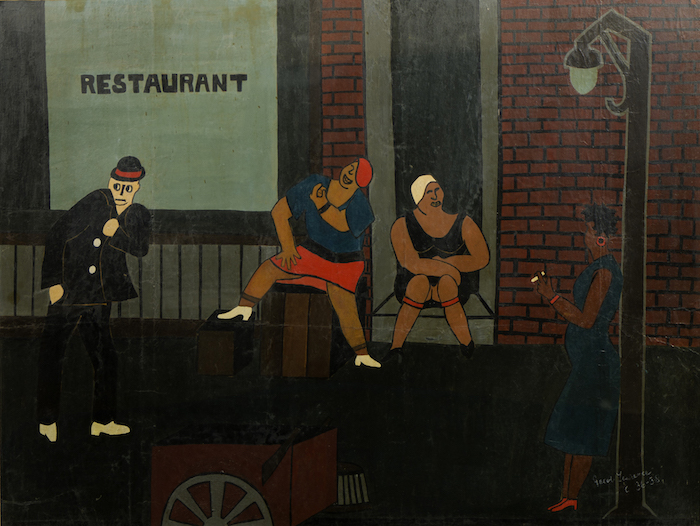 Jacob Lawrence
American, 1917-2000
Street Scene-Restaurant, c. 1936
Tempera on paper mounted on board
26 1/4 x 35 in. (66.68 x 88.9 cm)
Museum Purchase, Derby Fund, from the Philip J. and Suzanne Schiller Collection of American Social Commentary Art, 1930–1970
Street Scene—Restaurant is a youthful work by African-American artist Jacob Lawrence, a towering figure in the history of 20th-century American art. In this painting, Lawrence reveals a commitment to unvarnished realism, exposing life in the red-light district of the neighborhood of Harlem in New York City during the Depression. Drawing from influences such as African art and Cubism, Lawrence depicts his gritty subject using modernist conventions: flat space and boldly simplified, geometrically conceived form.
– David Stark, Chief Curator at CMA, has a background in museum education that includes positions at the Art Institute of Chicago and the Museum of Art, Rhode Island School of Design. He has taught art history and visual culture at Columbia College Chicago, has lectured on numerous international travel programs with the Art Institute, and his publications on 19th century Belgian art have appeared in American and European journals and catalogs.
Comments
comments