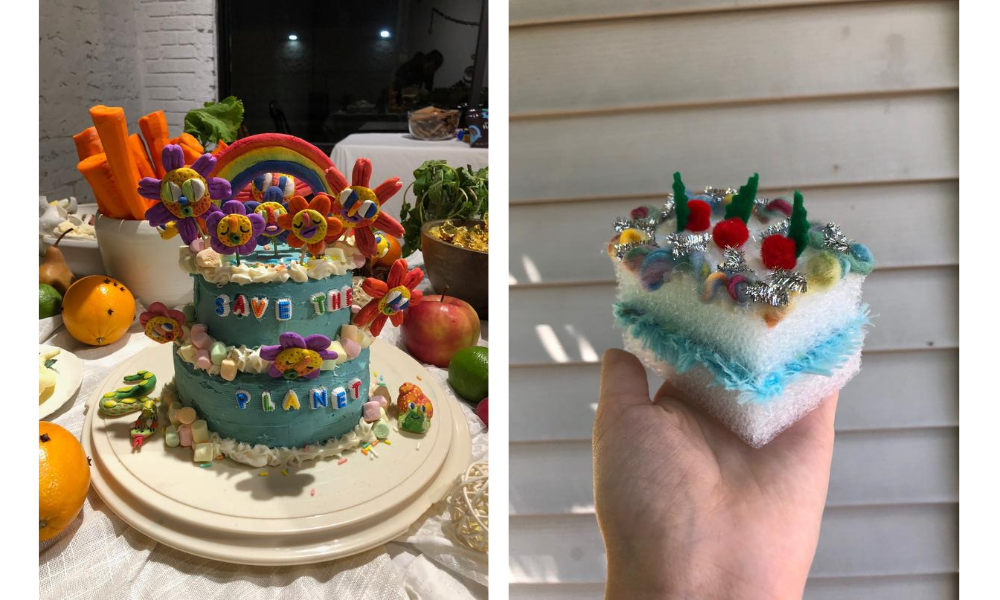 Making a cake is an art of its own.
We construct it out of a sponge cake base like a sculpture; building the tiers of cake up high or filling tiny cups with batter to make cupcakes. Next, we cover it with frosting like painting, taking our time to cover it neatly or globing it on for maximum sugary goodness. Lastly, we decorate it with whatever sounds fun or yummy, leaving us with a beautiful display. Maybe you jam-pack your cake with toys, fruits, icing, or even smaller cakes!!! Maybe you write a sweet message to someone you care about with icing or candy. Or maybe you leave it simple and bare, letting the amazing flavors do all the talking.
Cake has also been an inspiration for art as well. Let's look at cake paintings by American painter, Wayne Thiebaud. He makes paintings about ordinary things like food and most famously cakes! Do his paintings make you want to eat cake? How does he apply the paint like icing?
Your challenge is to design your perfect cake. You can go the 2-D route on paper with paint, pencils or collage, or try 3-D sculpting with whatever materials you have at your disposal – clay, fabric, dish sponges, cardboard, etc. Extra points if you don your apron and make a REAL CAKE!!! They can be as big or small as you desire! Tell us what makes it perfect and enjoy!
Find a CMA Studio Challenge that speaks to you and share your creations on social media by tagging #myCMAstudio.
—
Avery McGrail is an emerging artist and aspiring educator from Columbus Ohio. Her current work focuses on replicating everyday objects, plants and insects with felt and craft materials. She's spending her pandemic days working at a local bakery, altering thrifted clothes, playing with dogs, and preparing for an upcoming solo exhibition at Wild Goose Creative this December. Averymcgrail.weebly.com
Instagram @averymcgrailart
#myCMAstudio is a digital version of our drop- in program, Open Studio. Which is currently unavailable to the public due to Covid-19, and part of CMA's JPMorgan Chase Center for Creativity Studio to explore ideas, solve creative challenges, and collaborate with friends and family.
Pick up a Studio in a Box with all the supplies and materials needed to aid you in our weekly challenges or allow our CMA educators to guide kids Pre-K – 8th grade in an online Studio Workshop.