Houses vigorously being cleaned, colorful lanterns and beautiful scrolls with hopeful wishes being hung, vibrant dragons and lions dancing around us, while fireworks boom in celebration. Families and friends unite to give special red envelopes to one another and prepare feasts that will symbolize shared dreams and new hope for the year to come. As we say 新年快乐 (Pinyin pronunciation: Xīnnián kuàilè), 恭喜发财 (Pinyin Pronunciation: Gōngxǐ fācái or Cantonese pronunciation: Kung Hei Fat Choi), 春节快乐 (Happy Spring festival. Pinyin Pronunciation: Chūnjié kuàilè), chúc mừng năm mới (in Vietnamese), In Korean, you can greet with "새해 복 많이 받으세요!" (pronunciation: Sae-Hae-Bok-Manhi-Ba-deu-se-yo): "Happy New Year!"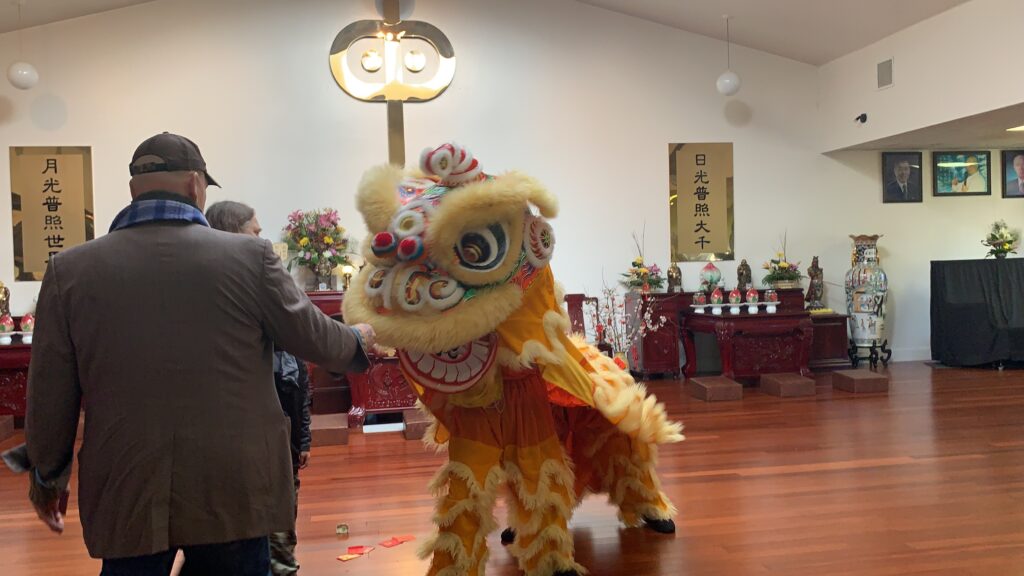 Lunar New Year, Chinese New Year, Spring Festival, or Tết (in Vietnam) is today February 12th 2021. These are just a few names given to a celebration of new beginnings, which at its core is about togetherness, traditions and family. Lunar New Year is not only celebrated in China, but is also celebrated around the world in such places as Korea, Indonesia, Malaysia, Singapore, Taiwan, and Vietnam, just to name a few. Unlike the Gregorian calendar, where December 31st marks the last day of the year, the date of the Lunar New Year varies. It's determined by the lunar calendar and always falls between January 21 and February 20. Celebration starts with Lunar New Years Eve and lasts for 15 days from the new moon to the full moon and ending with the Lantern Festival.
Lunar New Year, Chinese New Year or Tết, is an elaborate, colorful, festive, feasting celebration and one of the most important holidays because it reminds me so much of the importance of family and culture. It's the time of the year when we pause for a moment and make time to be with family, visiting relatives and close friends.
Every family has their own customs or traditions for Lunar New Year. For my family, we can be found busily cleaning the house days before to prepare for the new year because it symbolizes a new start and sweeping away bad luck and inviting good fortune. We all get haircuts that may stop bad luck from recognizing us and following us into the new year. We get dressed in our new clothes because it brings good luck and a fresh start and attend temples or church to pray for good health and a prosperous year. What I loved the most as a child was the gifts given during this time. Red envelopes usually have money in them. This money is supposed to help transfer fortune from the elders to the children or from the giver to the recipients. Usually during this time, visitors are offered sweets. I love preparing our family's "Tray of Togetherness", a candy platter with dried fruits, vegetables, nuts and other small candies or treats. The treats are said to bring luck and good fortune in the new year.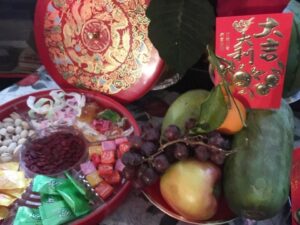 Chinese New Year or Tet, for my family is about reunion, where both the dead and living are honored. My family decorates our homes with red scrolls or sayings, yellow and pink spring flowers, as my mother prepares our family ancestors' altars with offerings of fresh fruits, sweets, traditional cakes and meals dedicated to our ancestors. On New Year Eve night my mother would also burn incense, fake paper money and printed gold bars to honor the deceased. Similar to the Day of the Dead traditions, offerings are said to bring fortune and good luck to our ancestors in the afterlife.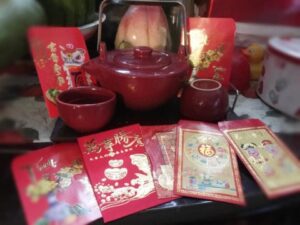 My mother, every year since I was little, can be found busily prepping for weeks all the delicious food, we will eat at New Year's Eve dinner (or the reunion dinner which is one of the most important dinners of the holiday) and all the other gatherings that will occur during this time. The dishes are not just delicious food to be eaten but created to give blessings for the new year. Our New Year's Eve dinner might consist of a whole fish for good luck or prosperity, A whole chicken which is symbol of family, or a glazed duck to ensure happiness. Uncut noodles and long beans represent longevity, while tangerines and pomelos bring wealth and luck. Papaya represents always having enough. Dumplings for wealth, spring rolls for wealth, and niangao (glutinous rice cake) for higher income or position, along with many other wonderful family favorite dishes to be had during this time of feasting. Of all the dishes my favorite is the hot pot. I would describe, it as the Chinese version of fondue, where ingredients are tossed inside a large pot of broth or stew and placed in the center of the dinner table. The boiling hot pot symbolizes a prosperous new year. There is no better way to celebrate the New Year than having hot pot with family and good friends. Every year on the first day of Chinese New Year or Tết my family usually spends it eating a vegetarian meal for a clean new beginning and a break from all the other possible unhealthy food to be eaten. While on the 15th day (the last day of New Year or the Lantern Festival) my family will eat sweet rice balls that represent togetherness.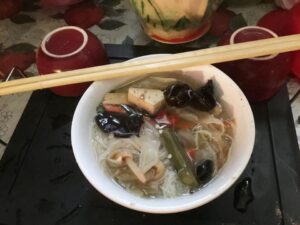 The heart of Chinese New Year or Tết, for my family, it has always been about family and friends being together, sharing, traditions and gratefulness. No matter where my siblings and I are, we always try to keep some of the traditions and customs our mother has instilled in us because it connects us to our past, present, future and gives us a little hope. For many of us 2021 Lunar New Year, Chinese New Year or Tết will look a little different. We might not be able to attend those parades, feasts or prayer sessions but we can still make it festive. We can share favorites memories, call up relatives and friends, make favorite recipes, send red envelopes (letters, cards or gifts) to friends and families. We can mourn, say goodbye, remember and reflect on what we have lost this year but hold on to what's to come. This year, I can't help but hold on a little tighter to the traditions and the hope that has been passed down, the true meaning of Lunar New Year, Chinese New Year or Tết.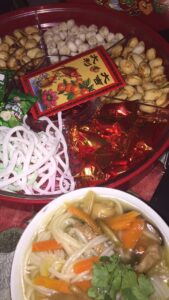 So, how are you celebrating Chinese New Year or Lunar New Year this year? Whatever the traditions, activities, food or festivities may be, the most important part is coming together in harmony, connecting (even while socially distancing), being thankful for what we have, new opportunities, and the people we love (ancestors, friends, and family)!
About the author:
Hello, my name is Linh Ta. I am proud Chinese-Vietnamese American immigrant and refugee from Vietnam. I graduated from The Ohio State University with a degree in History. I currently work for Columbus City Schools. In my free time I enjoy working with various organizations in the Central Ohio Community to help serve, educate, and empower families and children from various ethnic and social backgrounds.