Exploring Maps: Aminah Robinson's Memory Maps and Imaginary Maps
Maps are endlessly fascinating. They tell us so much about what people think is important and how we perceive the world we live in. More practically they tell us where things are located. There are so many different kinds of maps with a myriad of functions too.
Among Aminah Robinson's varied and diverse body of work she created "Memory Maps." Her memory maps are long, and colorful images that plot out geographic locations and memorable people in her Near East Side neighborhood.
Many writers of fantasy and science fiction often design imaginary maps of to help themselves and their readers understand the fictional places they invent. Lord of the Rings author J.R. Tolkien made an imaginary map of Middle Earth where his epic story takes place.
Aminah Robinson used her memory maps to share the stories of Columbus's past and to keep these memories alive.
Maps are also used by city planners, scientists, designers, and artists to imagine the future.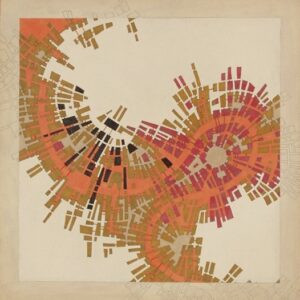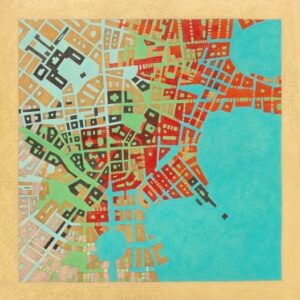 Federico Cortese creates beautiful aerial maps of non-existent cities
For this activity we invite you to create your own map. Think about how Aminah Robinson made maps of how she remembered her neighborhood. Is there a place that you remember? What did it look like? What were some of the people you met or knew in that place? You can also think about the imaginary maps created by Federico Cortese or inspired by J.R. Tolkien for inspiration. Is there a place that you wish existed? What does it look like? Does it have houses, rivers, roads, etc? Who lives there?
Once you have thought about your map and have drawn your image, don't stop there! Use your Aminah Robinson studio in a box to really elaborate and embellish your work with whatever you find. The possibilities are endless.
Artwork and prompt created by April Sunami in partnership with Art in House by the Ohio Alliance of Art Education. Written by Jaden Taylor, an 18 year-old artist of Columbus, Ohio. "I'm an apprentice for April Sunami in Art in the House. I graduated from Fort Hayes High School, and I'm now attending Columbus State Community College. I love to do photography, but AIH has opened me to a lot of other visual art mediums!"
April Sunami is a professional visual artist primarily focusing on mixed-media painting and installation. She earned her Master of Arts Degree in Art History from Ohio University and her Bachelor of Arts Degree from the Ohio State University. Sunami is also an award-winning installation artist through the 2012 Columbus Art Pop-Up Project sponsored by the Greater Columbus Arts Council. Her work has been widely exhibited in galleries and museums including the Columbus Museum of Art, National African America Museum and Cultural Center and the Southern Ohio Museum. Sunami is married to writer and philosopher Christopher Sunami. They both live in Columbus, OH and co-parent two bright and imaginative kids.
Find a CMA Studio Challenge that speaks to you and share your creations on social media by tagging #myCMAstudio.
#myCMAstudio is a digital version of our drop- in program, Open Studio. Which is currently unavailable to the public due to Covid-19, and part of CMA's JPMorgan Chase Center for Creativity Studio to explore ideas, solve creative challenges, and collaborate with friends and family.
Pick up a Studio in a Box with all the supplies and materials needed to aid you in our weekly challenges or allow our CMA educators to guide kids 1- 8th grade in a free online Studio Workshop.