Travel with Columbus Museum of Art
Explore the world both near and far through our Art Escapes travel program.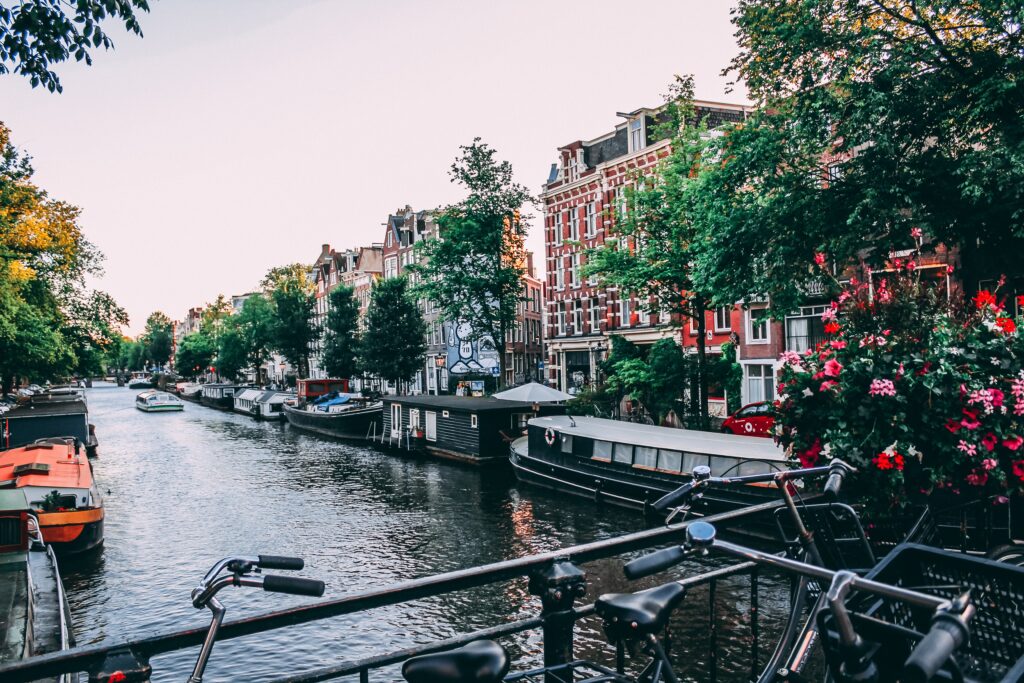 Art and the Netherlands: Vermeer, Amsterdam, and the Dutch countryside
March 29–April 8, 2023
Travel with us to the beautiful, vibrant city of Amsterdam for a once in a lifetime opportunity to view the largest ever Johannes Vermeer exhibition. This retrospective at the Rijksmuseum, in partnership with the Mauritshuis  in The Hague, will bring together most of Vermeer's paintings from all over the world. Ann Dumas, CMA's European Curator and renowned curator at the Royal Academy in London and Houston will join us to provide her incredible art knowledge and expertise. We'll explore other nearby cities and the Dutch countryside to see what so inspired Vermeer and other Masters!
We'll stay in a 4-star hotel in the cultural heart of Amsterdam and enjoy special dining experiences together; and our schedule will allow you time to do some exploring, eating, and shopping on your own.

Here are some of the highlights:
• 10 nights at the NH Amsterdam Centre Hotel in the Museum Quarter of Amsterdam, just a short walk from shops, cafes, restaurants, and of course museums! The hotel was built for the Olympic Games in 1928 and has a classic façade in the Amsterdamse School style. It was renovated in 2016, with contemporary, elegant rooms, many of which overlook the city.
• Daily fine dining as a group for either lunch or dinner, in Amsterdam and other cities we visit.
• The Rijksmuseum is the national museum of the Netherlands dedicated to Dutch arts and history. We will tour the Vermeer show as well as the Rijksmuseum permanent collection.
• The Van Gogh Museum is home of the world's largest collection of works by the artist. With more than 200 paintings, 500 drawings and 700 letters, the museum provides an intimate look into the life and mind of the artistic genius.
• Keukenhof, also known as the Garden of Europe, is one of the world's largest flower gardens where more than 7 million flower bulbs are planted every year.
• Zaanse Schans: We'll tour a working windmill, wooden clogs workshop, and visit a cheese farm, including a tasting.
• We will visit Ghent, Belgium to see Jan and Hubert van Eyck's famous Adoration of the Mystic Lamb, better known as the Ghent Altarpiece  of 1432, which ranks among the most significant works of art in Europe.
• Kröller Müller Museum is a national art museum and sculpture garden, located in the Hoge Veluwe National Park, and is home to the second largest Van Gogh collection in the world.
• The picturesque, canal-ringed town of Delft is famous for its ceramic Delft Blue pottery and is also known as the birth place of Vermeer.
• The seat of the Dutch parliament is The Hague, where we'll visit the Mauritshuis, home to the best of Dutch painting from the age of Rembrandt and Vermeer. We'll also tour Panorama Mesdag.
• A day in Dordrecht, one of the Netherlands' oldest cities; and Rotterdam, Europe's largest seaport and a city known for its modern architecture and design.
* There may be some attractions added to our itinerary.

Special note:
• Your trip guides will be Lucy Ackley, CMA's Executive Deputy Director of Advancement; and longtime CMA volunteer, Marketa Leeuwenburg – a Netherlands native!
• You should plan to take an overnight flight, leaving on Tuesday, March 28, arriving on Wednesday, March 29.  Our trip prices and planning do not include your airfare – you'll need to make those arrangements yourself.
• Check out from the NH Amsterdam Centre Hotel is Saturday, April 8.
Please contact Lucy (contact info below) to find out the flight that she and Marketa will take so you may try to be on that flight if you wish.

Cost of the trip:
Double Occupancy:  $8,500 per person
You and your spouse/partner; or you and a roommate – some of you may be interested in rooming with another traveler and Lucy will happily try to facilitate that connection.
Single Occupancy:  $9,700 person
One person – private room
Your full payment, due at the time you register, will reserve your place on the trip. All payments are non-refundable. The deadline to register for this Art Escape has passed.
If you have questions in the meantime, please contact Lucy Ackley, lucy.ackley@cmaohio.org or 614-629-0351.