Travel with Columbus Museum of Art
Explore the world both near and far through our Art Escapes travel program.
Upcoming Trips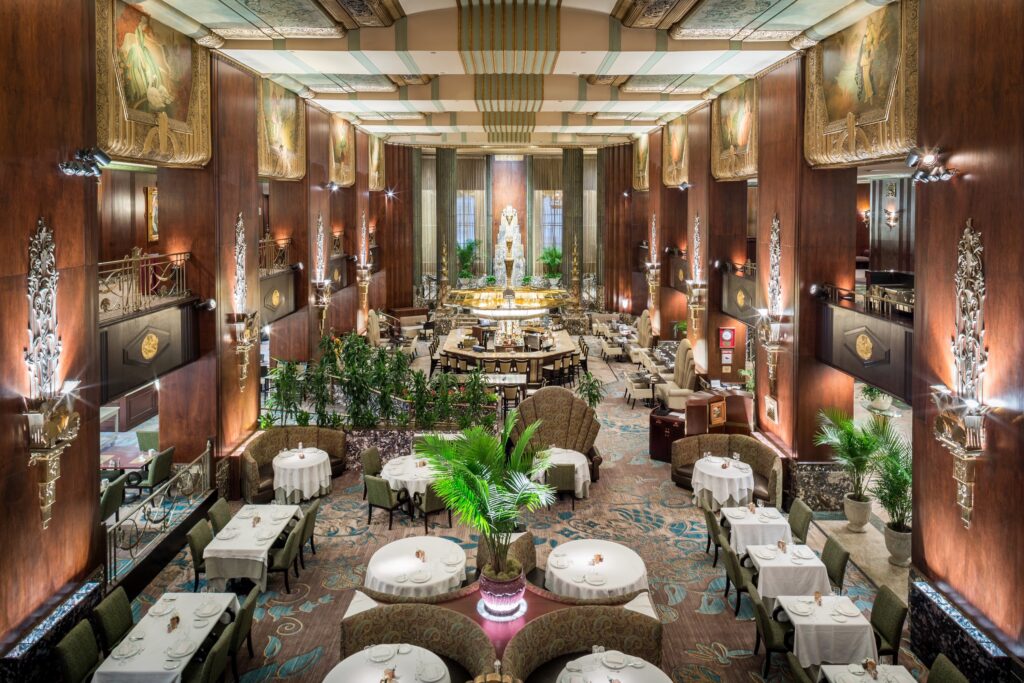 Elegant Cincinnati
October 23-24, 2021
Art Escapes Sherri Grubbs and Rick Sherman have planned a wonderful two-day excursion to Cincinnati to visit some of the Queen City's most elegant locations – The Cincinnati Museum Center, The Cincinnati Music Hall, The Taft Museum of Art and The Cincinnati Museum of Art. We overnight at the renowned Netherlands Plaza Hotel and enjoy dinner while taking a scenic train ride.
The impressive Cincinnati Museum Center, a National Historic Landmark, is in the Art Deco style and was once the Cincinnati Train Terminal. We will have a private "Behind the Scenes" tour with time for more viewing, lunch in the café and shopping.
The beautiful Cincinnati Music Hall, originally the city's first convention center, was completed in 1878 and is also a National Historic Landmark. It is a fine example of Victorian Gothic Architecture. This stop includes a tour of the ornate interior.
Over two hundred years old, the Taft Museum of Art is the oldest wooden domestic building in Cincinnati. Filled with exquisite murals and collections of the Taft family, the featured exhibit is entitled Treasures from the Taft.
The Cincinnati Museum of Art has been a favorite of Art Escapes for many years. Majestically nestled towards the peak of Eden Park, the Museum was founded in 1881 and was the first purpose-built art museum west of the Alleghenies and one of the oldest in the United States. Along with the world renowned permanent collection are several featured exhibitions including – Simply Brilliant: Artist-Jewelers of the 1960's and 1970's and Stepping into Style: Evening Shoes of the 1950's. There will be time to look at the featured exhibitions, the permanent collection, have lunch in the café and shop in the gift store.
The Netherlands Plaza Hotel was built in 1931 and displays French Art Deco architecture and Egyptian motifs. It is also a National Historic Landmark and features a Rookwood Pottery Fountain, fine murals and the "Hall of Mirrors." Breakfast is included in the glamorous Palm Court.
Saturday evening is our white tablecloth dinner on a 1940's era train car. This is a four-course white table cloth dinner and includes onboard entertainment along with the beautiful scenery.
The cost for this trip is $675 per person for a double and $775 for a single. This includes a private motor coach and driver, breakfast pastry, light snacks, all Museum entrance fees, tour fees and tips, Netherlands hotel room with breakfast, and dinner train costs. Full payment constitutes your reservation and must be made by September 1, 2021. There are no refunds unless Art Escapes cancels the trip. For further information email slgrubbs@gmail.com.
We have sold out of the 22 spots, if interested please add your name to the waitlist below.
Add your name to the waitlist for Cincinnati


Calder-Picasso in Houston
November 11-14, 2021
Join CMA Executive Director Nannette Maciejunes to experience the international exhibition "Calder-Picasso," at the Museum of Fine Arts, Houston. The exhibition was conceived by the artists' grandsons — Alexander S.C. Rower and Bernard Ruiz-Picasso. It will be the first major museum show to explore the artistic relationship between these titans of Modernism. The exhibition will include more than 100 paintings, sculptures, drawings, and archival photographs.

We will begin our visit to Houston at the Menil Collection where we will have a curator's tour of the collection. There will also be time to visit the Rothko Chapel which has recently been renovated for its 50th anniversary, Cy Twombly Gallery, Dan Flavin Installation, and the outdoor sculpture garden. The following day we will visit the Kinder Building which is devoted to the core curatorial department areas of modern and contemporary art. And in the afternoon, we will tour house museums at Bayou Bend and the Rienzi—American and European collections respectively.

On day three we will visit the MFAH. As the Houston curator of the exhibition, Ann Dumas, a curator at the Royal Academy in London, Houston and Columbus, has agreed to give us a private tour of "Calder-Picasso" before the museum is open to the public. After lunch, Ann will take us on a tour of the remarkable collection's highlights.

Ann Dumas, Nannette Maciejunes, and Nancy Turner will be your guides in Houston. The cost of the trip is $1475 double occupancy or $1875 for a single room which includes three nights at the Hotel ZaZa Houston Museum District. Airfare is not included and all dinners are on your own.

You must be a Museum member to register for overnight trips. The deadline to register is September 4, after which there will be no refunds. In the event the trip is cancelled, Art Escapes will fully refund your money. If you cancel prior to September 4, you will receive a refund minus a $500 cancellation fee. Art Escapes suggests purchasing trip insurance. For more information, please email Nancy Turner at nancy.turner@cmaohio.org. The trip is limited to the first 22 members who register.
We have sold out of the 22 spots, if interested please add your name to the waitlist below.
Add your name to the waitlist for Houston
Art in Provence and the French Riviera
March 30, 2022 – April 10, 2022
Visit Provence, arguably the most beautiful region of France, with CMA's Executive Director Nannette Maciejunes and Ann Dumas, a renowned curator at the Royal Academy in London, Houston and Columbus. Since art is the focus of the tour, you will visit some of the homes, studios, and places where these important artists painted: Cezanne, Van Gogh, Renoir, Signac, Bonnard, and Matisse. We will also visit important museums, villages, a winery, and much more. Here are some of the highlights:
Five nights at Hotel Le Pigonnet in Aix-en-Provence. The former 18th-century manor house is tucked away in a residential area, just a 10-minute walk from Aix-en-Provence center. Practically nothing gives it away at the entrance – you need to go up the alley lined with plane trees to see the hotel, which feels like going back in time to a Provence of the past.
Aix-en-Provence is a large, charming town, a genuine gem of Provence, bursting with remarkable monuments and architecture, as well as all the typical little lanes. It is a wonderful place to wander, stopping every now and then to admire sites and visit quaint boutiques. In Aix, you can follow in the Footsteps of Cézanne to his studio Le Lauves and his home with a local Cézanne scholar*.
The Musee Granet, which is set in the old Priory of the Knights of Malta, is devoted to painting, sculpture, and archaeology, ranging from antique treasures to Andy Warhol's aesthetic pop art.
The village Le Tholonet was one of Paul Cézanne's favorite places. Its red soil, grey rock and intense blue sky all complemented by Mount Sainte-Victoire, offer a palette of extraordinary colors.
The Hôtel de Caumont, an 18th century marvel, hosts two major annual exhibitions* focused on famous painters ranging from classical antiquity to today.
Château la Coste is either a wonderful winemaker with a sideline in contemporary art or a marvel of modern art and architecture with open-air gallery that has a vineyard attached. There are over thirty major art installations scattered throughout the beautiful grounds with architecture by Tadao Ando, Jean Nouvel, Renzo Piano & Frank O.Geary. Artworks include Louise Bourgeois, Alexander Calder, Larry Neufeld, Ai Weiwei, Sean Scully, Andy Goldsworthy, Michael Stipe, Tom Shannon, Tracey Emin and Liam Gillick.
The abbey and asylum of St Paul de Mausole, where Van Gogh drew and painted.
Medieval Cistercian Abbey Senanque. Monks still live there producing honey, liqueurs and lavender essence from the colorful fields just above.
Basilica of St.-Maximin-la-Sainte-Baume – finest example of Gothic architecture in Provence
St. Tropez where we will visit the Museum de l'Annonciade and the home of artist Paul Signac.*
Five nights at the Hotel Le Negresco, the grand dame of Nice. What other place best symbolizes the legend of the French Riviera?
The Chagall, Matisse, Picasso and Bonnard museums and Renoir's house and gardens.
The Matisse Chapel in Vence.
The Foundation Maeght, an important collection of 20th-century art in the picturesque village of St. Paul de Vence, a magnificent, fortified village dating from the 11th century where Chagall lived from 1966 until his death.
Dinner at La Colombe d'Or in St. Paul de Vence where all the artists hung out.
Beautiful gardens of the Villa Ephrussi de Rothschild at St.-Jean-Cap-Ferrat
Villa Grecque Kérylos at Beaulieu-sur-Mer with beautiful interiors built by archaeologist Théodore Reinach
*We are still working on some attractions which are currently closed.
The cost of the trip is $7775 double occupancy excluding airfare; the single cost is $8975. Space is limited to 22 participants. A deposit of $4000 will reserve your place on the trip. Deposits are due no later than July 29 with final payment due on November 25, 2021. All deposits are refundable with a cancellation fee of $2000. After November 25, 2021, no refunds will be made. Please email nancy.turner@cmaohio.org with questions
We have sold out of the 22 spots, if interested please add your name to the waitlist below.