BAM Thursdays
Thursdays 5:00–9:00 PM
May–September
Columbus Museum of Art

The Museum is thrilled to announce the return of BAM Thursdays (Bar, Art, and Music). Every Thursday will bring fresh libations, great art, and music at the Museum. The festivities will be enhanced the first Thursday of each month with a featured live artist from 6:00–8:00 PM. Sip and vibe with friends in our garden space, with limited seating also available inside Schokko Café.
NEW! Shop from local Craftin' Outlaws exhibitors the first Thursday of each month from 6:00–8:00 PM. This marketplace will give you access to shop unique, one-of-a-kind, items from local and regional artists, makers, and retailers.
You do not need a reservation or ticket to attend BAM Thursdays, however if you would like to visit the Museum, we ask you reserve a timed ticket in advance here.
Tables are available on a first come first serve basis for dining until 9:00 PM. See you there!

August
August 4: Artists Bryan Moss and Lance Johnson with DJ Ryden Thomas. Craftin' Outlaw vendors are Art of GG, Glass Sky Jewelry, Pretty Papel, and The Gift Box. Wolf's Ridge Brewing will also be offering tastings.
August 11: DJ William Alexander
August 18: DJ Tim Saintclair
August 25: DJ Personality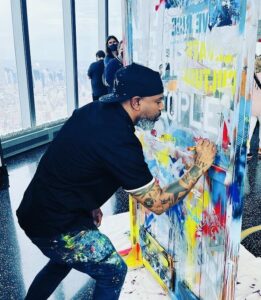 Lance Johnson, is a visual artist that works with various materials to celebrate the complexity of the urban environment. Using vibrant colors, textures and inspirational text to convey a sense of hope and pride that is prevalent in city life.
Art has the power to connect people from all walks of life. Across cultures, languages and religions. To Johnson, art has always been a us over individual pursuit. Collaboration is a large part of his practice. Collaborating with dancers, musicians, poets, singers and other visual artists throughout his artistic journey.
Check out his Instagram.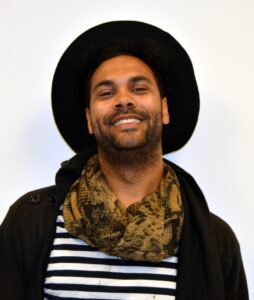 Bryan Christopher Moss is a painter, muralist, illustrator, educator, and creative director who grew up in Columbus, Ohio where he has worked as a professional artist for the past 20 years. As a self-taught artist, Moss focuses on creating impact and camaraderie within the arts community. His commercial clients include Cirque du Soleil, Marvel Comics, Sprite, Coca-Cola, White Castle, Easton Towne Center, and a long-time partnership with the Greater Columbus Arts Council. He curated the exhibition The Black Panther: Celebrating 50+ Years of Black Superheroes for the King Arts Complex, and his paintings have been featured in exhibitions at Harvard, MAC Worthington, and Art/Space Lima. His first solo exhibition, About Time: The Art of Bryan Moss debuted at the Columbus Museum of Art in 2022. His first graphic novel, The Eightfold Path, which was written by Steve Barnes and Charles Johnson, was published by the Megascope imprint at AbramsComicArts in 2022. He is currently at work on his comics series for kids, Rita's Dream.
Check out his Instagram.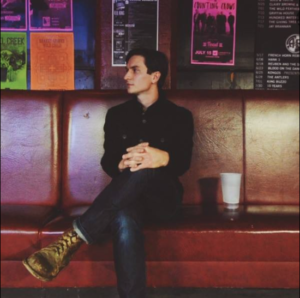 DJ Ryden Thomas Expect to hear house, breaks, and touches of experimental music during an all-vinyl DJ set from Ryden Thomas. He is a former resident of the Midwest Fresh Disco Room, Heavy Glide, and Revelation Groove parties. Currently, Ry works with Rich Street Records (Roots Records) in Franklinton, local electronic music label Shut Off Notice Records, and their annual event Bird Tunnel.
Check out his Instagram.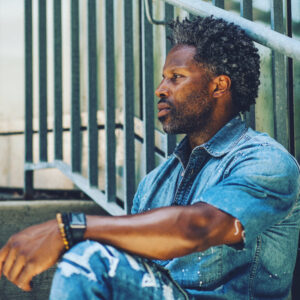 William Alexander, is one of the best kept secrets in Columbus, Ohio. Spinning the best acid jazz, house and lofi hiphop, William Alexander is a must see. Check out his Instagram.

BAM 2022 Past Artists
Check out our past artists for BAM here
BAM Thursdays is proud to have support from the following sponsors: