Looking for a midweek pick-me-up? Join Columbus Museum of Art on Wednesdays at 2:00 PM and gain a behind-the-scenes perspective on current exhibitions, CMA's collection, and more as you hear personal and professional stories from guest speakers.
Wednesdays@2 will now be a hybrid experience with an in-person talk at the Museum and a virtual Zoom session. Register to attend the event in-person and check back to this page to tune-in to the virtual experience on the event date. Questions? Call 614.629.0359.
In-person tickets are $5 for CMA Members, $20 Non-Members. Virtual Zoom session is free.
You can also view past Wednesdays@2 talks on YouTube such as The Artist's Eye: CMA's Modern Art Masterpieces, and Aminah Robinson & The Spirit of Home, and more.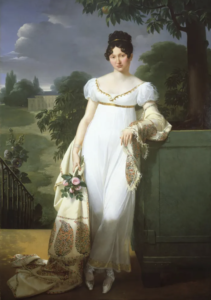 Merry-Joseph Blondel, Félicité-Louise de Durfort, Maréchale de Beuronville, 1808, private collection
Wed@2: Regency Fashion: From Jane Austen to Bridgerton
August 24, 2:00–3:00 PM
In-person at CMA & Online
Clothing of the distant British Regency period (1811–1820) is still admired and emulated today. Considered both elegantly romantic and attractively modern, Regency fashions have been made over on today's runways and on stage and screen, from adaptations of novels by Jane Austen to the current hit TV series Bridgerton. Guest lecturer Jeffrey Nigro (Art Institute of Chicago) will explore the distinctive clothing styles of this era—ranging from classic simplicity to frothy extravagance—as portrayed in 19th-century paintings, fashion plates and satirical cartoons, followed by a look at Regency apparel viewed through the lens of contemporary media.
Register Here
Join Virtually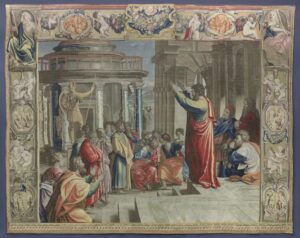 Mortlake manufactory (after designs by Raphael), St. Paul Preaching at Athens, after 1625. Tapestry. Staatliche Kunstsammlungen Dresden, Gemäldegalerie Alte Meister
Wed@2: Transformation in Silk and Wool: Raphael's Impact on Early Modern Tapestry Design
September 7, 2:00–3:00 PM
In-person at CMA & Online
Innovation and experimentation were well underway in the tapestry industry in Brussels at the end of the 15th century. A remarkable transformation, however, was sparked in 1515 with the arrival from Rome of Raphael's cartoons (monumental paintings) from which the so-called Vatican Tapestries were woven, later versions of which (woven in London) are on view in the exhibition Raphael—The Power of Renaissance Images: The Dresden Tapestries and their Impact. Guest speaker Dr. Kristen Adams (Ohio State University) will reveal the profound effect of this groundbreaking tapestry series by focusing on the brilliant collaborations between designers and master weavers in Early Modern Europe in the wake of Raphael.
Register Here
Join Virtually



Raphael, Eight Apostles, c. 1514. Red chalk over stylus underdrawing and traces of leadpoint on laid paper, cut in two pieces and rejoined; laid down. National Gallery of Art, Washington, Woodner Collection, 1993
Wed@2: Mozart to Matisse – Courtly Themes: Music and the Dresden Tapestries
September 21, 2:00–3:00 PM
In-person at CMA
The 2022-23 season of Mozart to Matisse, an ongoing partnership of CMA with the Columbus Symphony Orchesta, begins with a concert planned in conjunction with the exhibition Raphael—The Power of Renaissance Images: The Dresden Tapestries and their Impact. Following a brief talk on highlights of the exhibition, an ensemble of CSO musicians will play selections from periods represented in the exhibition, during which inspired compositions were produced for princely courts and prelates of the Church.
Register Here