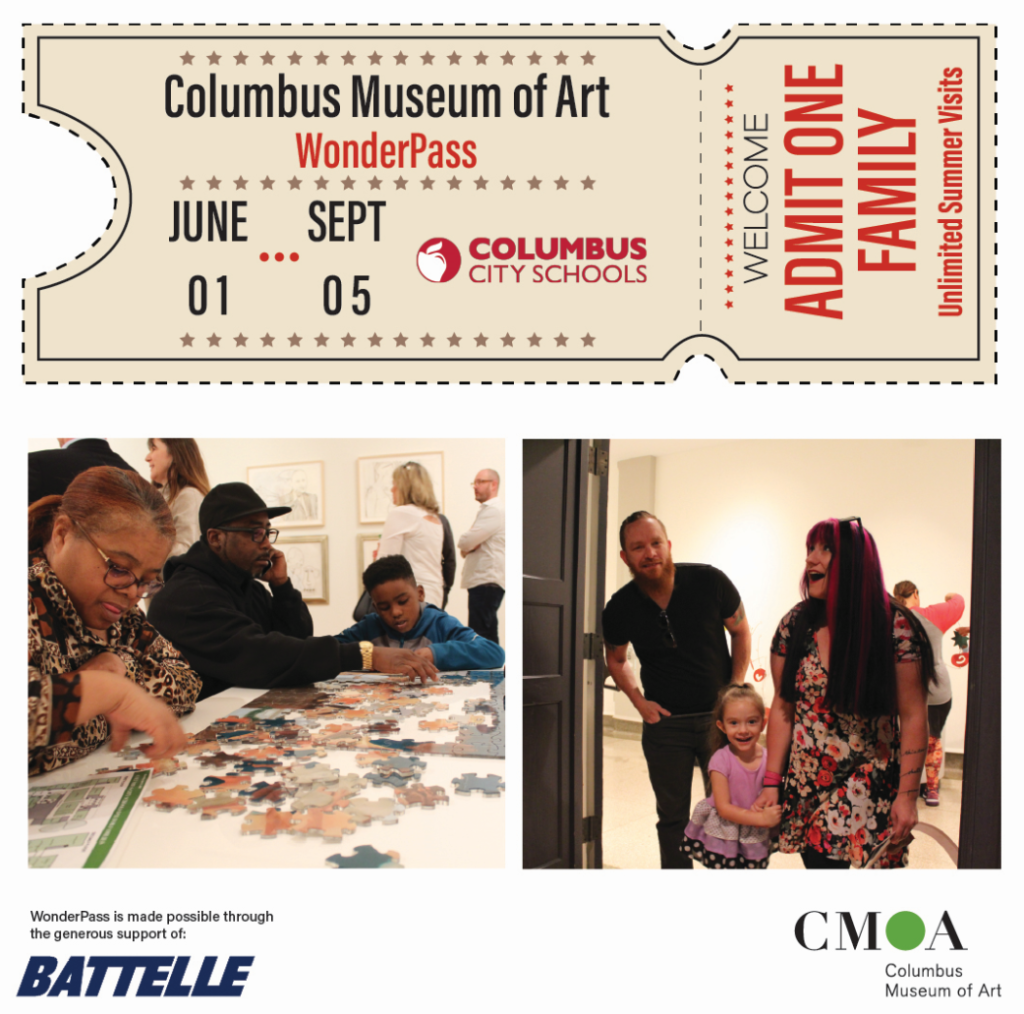 What is WonderPass?
WonderPass is a year of creative experiences and resources for imagination, curiosity, critical thinking, and play – at the CMA and at home.

What does WonderPass include?
• Free summer admission for children 17 years and younger (from June 1 to September 3). This includes our special exhibition, Raggin' On: The Art of Aminah Brenda Lynn Robinson's House and Journals.
*Free summer admission extends to caregivers and families for those who attend Columbus City Schools.
• A resource guide for in-gallery and at home creative learning. A new one unveiled each season!
• Community Days – these creative, play filled days at the museum will happen quarterly. The first celebrates Columbus' own Aminah Brenda Lynn Robinson on Saturday, August 14, featuring maker activities from 11 AM-1 PM, and a performance by Urban String in collaboration with Mark Lomax.
Find the resource guide for the Aminah Celebration Days below:
Aminah Wonder Guide in English
Aminah Wonder Guide in Spanish
Aminah Wonder Guide in Somali
Aminah Wonder Guide in Arabic

How do I participate?
• Free admission for all children is automatic! Click here to reserve your ticket now. Columbus City Schools Families, to redeem your special offer, be sure to use the code CCS2021.
• Download the resource guide and play along in our galleries or at home.
Wonder Guide in English
Wonder Guide in Spanish
Wonder Guide in Somali
Wonder Guide in Arabic
• Follow CMA on social media for updates about new WonderPass resources and upcoming events.

Why is WonderPass important?
Columbus City Schools Superintendent Dr. Dixon states: "Great community partners like the Columbus Museum of Art and Battelle continue to step up, come together, and support the students and families in Columbus City Schools. I appreciate this new partnership to provide experiential learning at the museum over the summer to all of our young people," said Columbus City Schools Superintendent/CEO, Dr. Talisa Dixon. "When great learning institutions in our community find creative ways to open their doors to all of our families, they also open the doors of opportunity for our children in a way that can forever impact their lives and love for learning."

At the Columbus Museum of Art, we are committed to learning experiences that are curiosity-driven and playful, support imagination, investigation, agency, and healthy social-emotional development. WonderPass will help nurture these critical capacities needed for individual and community well-being in a rapidly changing, highly complex world.