Here are some tips to get the most out of your Wonderball experience:
Friday, May 13 • 8:00 PM–Midnight
Doors open at 8:00 PM
Wonderball is a 21 and over event
Columbus Museum of Art
480 East Broad Street
Columbus, Ohio 43215
EVENTBRITE TICKETS
Guests must provide a valid picture ID for entry. Eventbrite tickets will be scanned upon entry. Please have your tickets ready to show on your phone or printed out.
If you are no longer able to attend Wonderball, Eventbrite makes it easy to transfer your ticket to someone else! This function is only available on the website, not the Eventbrite app. Click here to learn how! Note: Once this is done, the old ticket will not work, each ticket can only be scanned once for valid entry into Wonderball.
ALL WONDERBALL ATTENDEES MUST SHOW PROOF OF VACCINATION OR NEGATIVE COVID TEST
We have partnered with Bindle to validate health credentials and offer a streamlined check-in process.
To use Bindle, download the app through the Apple App Store or the Google Play Store, set-up an account, and upload your vaccine status or negative COVID test to generate your Check-in Pass.
If you already have Bindle set up from previously using it at a CAPA venue (e.g. Ohio Theatre, Palace Theatre, etc.) and your vaccination or test info is up-to-date, you can go directly to Step 4.
How to Use Bindle:
1. Download the App–Search for "My Bindle" in your phone's app store or click the links above
2. Set up Account–In the app, tap "New Bindle" and follow the prompts
3. Upload Health Credentials–Go to "My Certificates" and tap the "+" icon to add your vaccination records or test results
4. Check In–After uploading credentials, click "My Passes" in the Bindle App, search for "Columbus Museum of Art" and click "Create Entry Pass"
You should have a screen showing an entry pass that looks like this: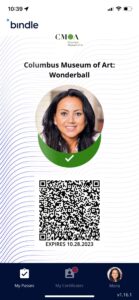 Your medical records will be completely confidential. We will not have access to your personal health information, and neither will Bindle; we will only view your verified "pass" upon entry. Using Bindle is optional. You may also bring your physical vaccination card or show a photo on your phone.
PARKING
To ensure a worry-free evening, we encourage you to leave the driving to someone else! Ask your driver to drop you off at the main entrance near Washington Ave & Gay Street. Free self-parking is also available in nearby lots, including the State Auto parking lots off N Washington Ave and across Broad Street and the Columbus State lot on the northwest corner of Long Street and N Washington Ave. Download a complete parking map here.
ATTIRE
Futuristic black and white cocktail attire is encouraged. It's not black-tie, so get creative! Need inspiration? Click here.
CHEERS
Wonderball tickets include a welcome cocktail and an additional drink ticket. Extra drinks may be purchased with cash or credit at bars.
GETTING READY
Get pumped for the party with a playlist curated by DJs Charles Erickson & Donnie Mossman. Download Wonderball getting-ready playlist
FOOD
Samples from select Columbus eateries will be offered throughout the evening. Additionally, food trucks will be offering menu items for purchase in the Museum parking lot from 8:00 PM–Midnight.
CHROMA: BEST OF CCAD
Start the festivities early by exploring original art at CCAD. See the future creative culture makers at CCAD's Chroma: Best of CCAD event, then head next door to party for the future at Wonderball.
Chroma: Best of CCAD
Columbus College of Art and Design
Friday, May 13, 4:00–8:00 PM.
#ccadchroma