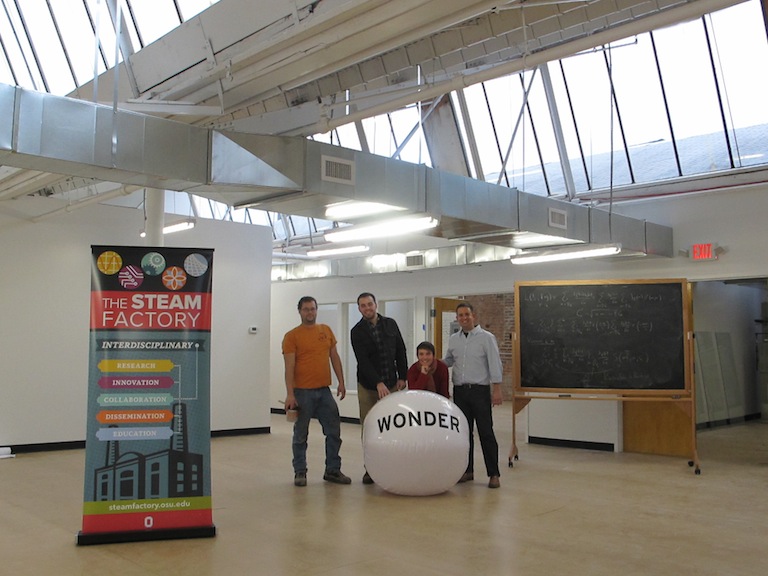 Our first-ever Wonderball party is one week away! On Saturday, January 31 the museum will be alive with creativity, artistic performances, and the best of Columbus' food and drink scene.
As we gear up for the event, we've been chatting with some of our event committee members about wonder and creativity. Today we are featuring Roman Holowinsky and The STEAM Factory team.
How do you incorporate creativity into your life?
My career as a math professor in Analytic Number Theory is all about creativity.  One is constantly searching for new methods of proof in establishing previously unknown mathematical truths. Finding a successful way of thinking about a particular problem, when no one else in the world had previously considered it or when others have tried and failed, can be a pretty daunting task sometimes. It's important to be working on multiple research problems simultaneously, because you can definitely get stuck along the way with each one (a recent problem that I worked on took roughly six years to complete).
Therefore, I'm always searching the world around me for creative inspiration.  Working and talking with people who have different perspectives is terribly important.  In particular, I get a lot of energy from hearing about research people are doing in other disciplines.  I believe a significant proportion of faculty feel the same way.  We're lifelong learners that appreciate the quest for knowledge.  That's why several of us founded The STEAM Factory at Ohio State in December of 2012 to get out of our disciplinary silos every now and then and help facilitate interdisciplinary collaboration. We've now grown to a group of roughly 60 members spanning more than 40 disciplines.  I've learned a tremendous amount from my colleagues.
What is your version of Wonder?
Wonder for me is a combination of things. It can be truths that are yet to be discovered. It can be human feats or accomplishments previously unimaginable.  It can also be the sum total of all that exists in nature, in knowledge and spirit.  Let's face it, each of us will individually experience and understand only a tiny fraction of our universe, and I find that to be quite humbling.
I do have to add, however, that I'm in awe of many of my fellow Columbus community members.  I moved here 4.5 years ago, and I've never seen so much passion for a city.  There are so many great projects and programs going on, and I absolutely love it!  Columbus has changed dramatically over the time I've been here already, and I wonder what great things the future has in store for us.
Roman Holowinsky is an Associate Professor of Mathematics at The Ohio State University and is Chair and cofounder of The STEAM Factory.
Advance tickets are $100 ($125 day of), and include a tasting reception, two drink tickets, valet parking, entertainment, and surprises throughout the night. All proceeds benefit CMA's Center for Creativity.
Purchase Wonderball Tickets here.
Comments
comments