Membership
Membership is the best way to support your CMA and have access to the full Museum experience. Membership benefits include: free admission to galleries and the Center for Creativity, free parking, docent-led tours, invitations to members-only exhibition openings, inside Member news, and discounts on programs, the Museum Store, and Schokko Art Café.
Museum Store
CMA's Museum Store is located near the main entrance on the first floor, and features a selection of unique items related to our collection or special exhibitions including books, stationery, jewelry, toys, and household décor.
Photography is Encouraged
For personal, noncommercial use in galleries that include art owned by the Museum.
In some special exhibitions except where noted.
Connect with us and share your photos: @columbusmuseum #myCMA.
Please note: NO flash, tripods, or selfie sticks.
Additional Visiting Info
A limited number of wheelchairs and strollers are available at the Admissions Desk
Pencil sketching is permitted in the galleries
Food and beverages are NOT permitted in the galleries
No oversized size bags.
All bags are subject to security inspection before entering the Museum. The Museum requires visitors to check all items that are larger than 11 x 15 x 5 inches (28 x 38 x 13 cm). Any item that is larger than 14 x 22 x 9 inches (36 x 56 x 23 cm) will not be allowed in the checkroom, and cannot be brought into the galleries.The Museum reserves the right to refuse other items and is not responsible for items held by the checkroom.
Accessibility
Columbus Museum of Art recognizes the diversity of our general public's abilities and needs, and we offer a variety of programs and services to ensure the accessibility of the Museum and its collection.
Wheelchairs are available free of charge on a first-come, first-served basis, and are located at the Admissions Desk. Motorized wheelchairs are permitted.
Parking
Starting January 16, CMA will charge a flat rate of $5 for parking in the Museum's East Gay lot. CMA members and visitors to Schokko Art Cafe and the Museum Store will enjoy free parking. Just bring your Museum ID or receipt to the admissions desk.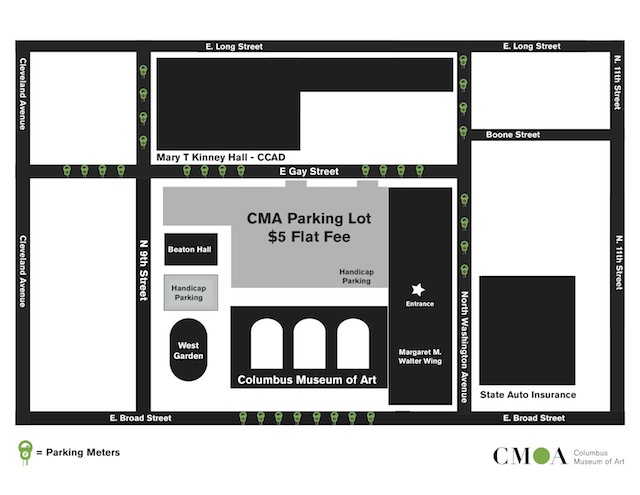 Getting Here
The Columbus Museum of Art is located in the Discovery District, just four blocks east of the State Capitol. Public transportation is available via COTA; the #10 line bus stops in front of the Museum. There is also a CoGo Bike Share station in front of the Museum on Broad Street.
480 E Broad St
Columbus, OH 43215