While the Museum is currently closed, we are still here for you. Because CMA values and cultivates experiences, creativity, and relationships, you can count on us to continue to bring you great art with great experiences for everyone – wherever you may be.
Now more than ever, we need creativity and connection. CMA values the role artists play in society to imagine, question, connect, and explore. Join us online over the next few weeks as we experiment with new ways of virtually gathering, cultivating creativity and play, and building community resilience and connection together.
Explore Art Online
View more than 3,500 works of art from CMA's collection from the comfort of your own home.
Virtual Social Distance Gallery Tour
Check out writer Scott Woods' Social Distance gallery tour. Executive Director Nannette Maciejunes goes behind the scenes of the Folk Art Road Trip installation, and Executive Assistant Director, Director of Learning and Experience Cindy Foley shares ideas from the Center for Art and Social Engagement on how we can stay connected during the age of social distancing. Plus get a sneak preview of a new Wonder Room installation.
Art after Stonewall, 1969-1989
Missed the Art after Stonewall, 1969-1989 exhibition opening? Watch the Art after Stonewall opening talk with curator Jonathan Weinberg. We'll also be bringing you behind the scenes peeks from the exhibition.
In this first Art after Stonewall behind-the-scenes video Pizzuti Family Curator of Contemporary Art and Head of Exhibitions Tyler Cann talks about how artists responded to the AIDS public health crisis.
Creativity at Home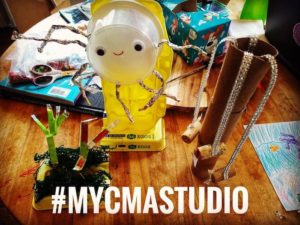 Look for weekly #myCMAStudio creative challenges you can do from the comfort of your own home.
Read the Columbus Dispatch article on how to keep kids engaged at home.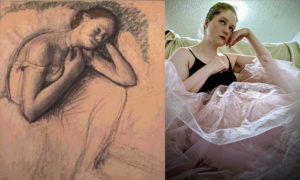 Recreate Famous Art: Take the #homemademasterpiece challenge.
Creative Wellness
We're partnering with Replenish to bring you a virtual version of our meditation and yoga during these tumultuous times. Starting Thursday March 26 at noon tune in to @bereplenish on Instagram for virtual meditation at noon, and watch for details on virtual yoga.
Stay up to date on the blog
Visit the CMA blog for news and creative inspiration.
Follow us on social media
Stay connected with us and each other. #myCMAatHome
Facebook
Twitter
Instagram
YouTube
Want to get involved?
Here are ways you can support CMA and Pizzuti Collection of CMA.
Become a member and help fuel creative expression and ignite cultural curiosity.
Donate and provide critical support for our exhibitions and performances, diverse offerings, and imagination-expanding learning experiences that benefit children, youth, adults and families throughout our region.
*IMPORTANT: Because of the Federal Stimulus Package, you are able, for 2020, to receive an extra tax deduction on gifts up to $300 if you do not normally itemize your contributions (that is, you do not donate in excess of the standard deduction).